TimeLog version 6.2.61 - Release date 20 October 2020
Features
Preview features
Mileage registration with maps in our Mobile app (Alpha)
You can now stop an ongoing mileage registration from anywhere in the app.
When you start tracking travel time for a mileage registration, you can still use the app for other registrations.
You will see the ongoing travel time registration in the top of the app, and you can stop and complete the mileage registration by tapping stop.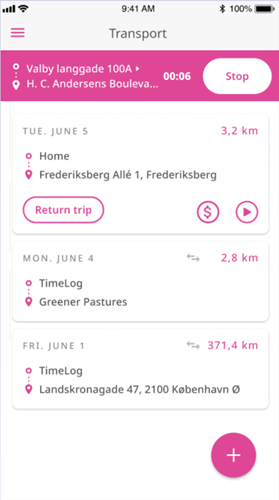 When you start you time tracking for travel time and you leave the app to use another app, e.g. the navigation, you might forget all about your time registration.
This is why the app will notify you when you get past the estimated travel time. You can long press the notification to get the option to open or stop the ongoing registration.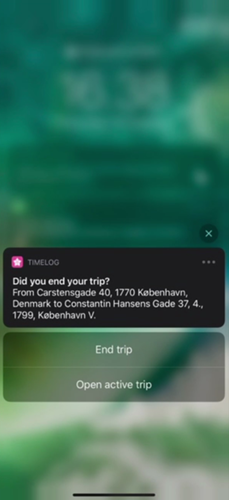 When you stop the registration, you are taken directly to complete the mileage registration.
You can read more about the preview features in our Help Center.
Production features
Currency added in report filters
Based on the feedback we have received from our customers, we have added currency as part of the filter in the following reports to make it easier for you to see the value of your registrations:
Time registrations by project/employee
Internal/external analysis
Data extraction: Projects
Am I on the right version of TimeLog?
If you are not sure, you can take a look at the front page of the system administration. If you do not see a number here, you are on an older version and need an upgrade of your TimeLog to the latest version.
You can read more about the upgrade process right here and contact our upgrade team via upgrade@timelog.com to learn more.