TimeLog version 7.0.029 - Release date 16 November 2021
TimeLog Mobile version 1.2.0 - Release date 16 November 2021
TimeLog Mobile version 1.2.1 - Release date 16 November 2021
Features
Registrations
Mobile app: Mileage with maps
TimeLog's next generation mileage registration optimises the flow for each single user through smart functionality. This limits the need for you to manually enter address data, and lets you report travel time together with mileage in one simple operation.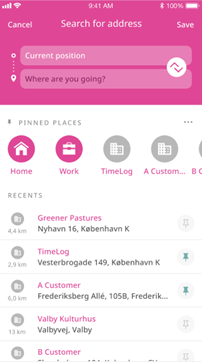 The release helps the project managers control that travel time is added to the right tasks and contracts right away. This heightens the data quality and lowers maintenance time around mileage and travel time.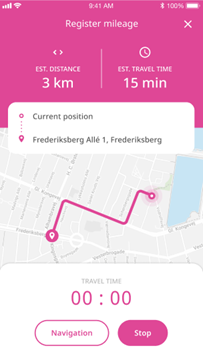 When you find the route inside the TimeLog Mobile app and start the travel time timer, the app automatically adds most of the information for your mileage registration, logs the travel time and starts the navigation.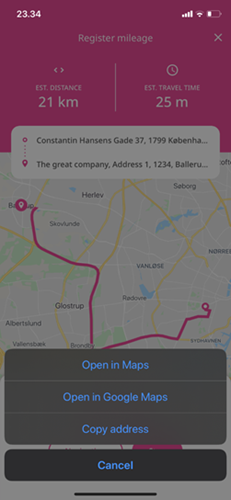 See how it works in this video:
What you need to make use of this feature
Learn more about TimeLog Mobile and mileage and travel time registration
Projects
Travel time tasks
You now have the opportunity to mark specific tasks in your project for travel time.
With this setup, the task is selected automatically on mileage registrations in the app, when your consultants are on the go. At the same time, you make sure that the right amount is added to the invoice, when you need to settle travel time with the customer.
Learn more in our Best practice for mileage and travel time.
TimeLog version 7.0.030 - Release date 18 November 2021
No new features with this update, but check what is under development and find out what to expect next.